Welcome to Pet Vet Animal Hospitals: Houston's Choice for Top-Quality Veterinary Care!
On behalf of each and every member of our dedicated team, we welcome you to the official website for Pet Vet Animal Hospital's. Houston's top-quality veterinary care for more than four decades. We have four convenient locations so every pet and pet owner in the Houston area can benefit from our combination of skill, expertise advanced technology, and compassionate care. Take a look at the many features we can offer your furry family members --and then make sure to schedule an in-person consultation at any of our offices.
Watch our video regarding new office hours & COVID-19 safety procedures.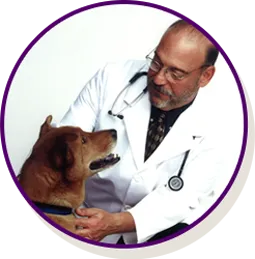 40 Years of Dedicated Service

Pet Vet Animal Hospitals has dedicated itself to promoting and providing comprehensive care for Houston pets for over 40 years. That adds up to over 500,000 pets since we first opened outdoors -- and still counting! Our four locations are served by a team of experienced practitioners, some of whom have been with us since our founding. Our Team is all ready, willing and able to give your pet the highest level of compassionate veterinary care. With our track record and caring staff, you'll never want to trust the care of your pet to any other veterinary clinic.
A Full Suite of Preventative and Treatment Services
Every veterinarian in any of our locations can provide your pet with the entire spectrum of primary veterinary services., from preventative care procedures to advanced treatment methods. Bring your pet to us for:
Wellness exams - We can screen for a variety of common pet problems, including parasites, feline leukemia, systemic ailments, and age-related conditions. By catching any problems early on, we can keep your pet healthier for life.
Preventative procedures - We offer vaccinations, pest/parasite prevention, dental checkups and cleanings, and a variety of other procedures to safeguard your pet's wellness. We also perform spay/neuter surgery, which conveys important preventative health benefits while also preventing pregnancy.
Treatments - Your veterinarian can treat chronic pain, injuries, and a variety of diseases and disorders. Treatment strategies range from drugs and nutritional guidance to internal and external surgery.
Pet supplies - Does your pet need specialized foods or other supplies? You'll find them right here.
Come Meet Your Houston Veterinarian: Schedule a Visit Today At Pet Vet Hospitals!
We can't wait to show you everything Pet Vet Animal Hospital has to offer for your beloved companion -- so don't hesitate to schedule that first visit to any of our offices. Call (281) 879-PETS or book an online appointment today!