Pet Vet Animal Hospitals: Baybrook Mall Location
At Pet Vet Animals Hospitals, it is our pleasure to serve the local citizens of Friendswood, TX. We have a location in the Baybrook Mall area of Friendswood. We know that the Baybrook Mall is known for its diverse array of shops and restaurants. This shopping mall is located near Interstate 45 in close proximity to some of the major industries in the Friendswood area such as the NASA Johnson Space Center. The Baybrook Mall is also home to JC Penny, Macy's, Dillard's, and even Sears. For the families who live in the suburbs of the Houston, TX, area, our animal hospital is staffed by a veterinarian team that is here to serve you.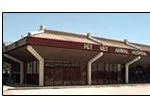 The Baybrook Location for Pet Vet Animals Hospitals
Our Baybrook clinic location is here to serve the people of Clearlake and Southeast Houston in Fort Bend County. The clinic is located about 18 miles southeast of the city of Houston. Our clinic can be found off of 1520 West Bay Area Blvd. Our clinic is located in Friendswood, TX, at the Baybrook Mall.
Our families can access our clinic by heading west on Bay Area Blvd after taking the respective exit off of I-45 South. Turn right into the second mall entrance. Our clinic is a free-standing building. However, it is located in the parking lot of the mall. Our hospital is more than 4,500 square feet in size with plenty of space to take care of patients, store medical supplies, and carry out medical procedures. Our clinic is here to serve the people of the Friendswood area.
If you would like to check out the mall while we take care of your pet, that is fine with us. We will keep you updated if your pet is undergoing a procedure. We can even point you in the right direction. Let us help you!
Baybrook Mall Animal Hospital Information
At Pet Vet Animals Hospitals, we know that you might have trouble reaching our clinic during normal business hours. That is why we are open every day of the week. You can tailor your vet appointments to meet your individual needs. The hours of our Baybrook Mall clinic information are as follows:
Monday, Tuesday, Thursday, and Friday: 7 AM to 7 PM
Wednesday: 7 AM to 6 PM
Saturday: 8 AM to 5 PM
Sunday: 10 AM to 4 PM
The address of our animal hospital is:
1520 West Bay Area Blvd #7
Friendswood, TX, 77546
If you are looking for reliable, experienced, and compassionate medical providers to take care of your pet, then please call us today at (281) 480-9383 to make an appointment with a Fort Bend County veterinarian on our team.
The Pet Vet Baybrook team is below:
Staff

Jim Sloat
Veterinarian
Craig Wahlgren
Veterinarian
Doug Williams
Veterinarian
Demonyca
Technician
Gaby
Technician
Roni
Technician
Cayley
Technician
Nick
Client Care Specialist
Carolyn
Client Care Specialist
Colleen
Client Care Specialist
Terry Fultz
General Manager - All Locations